Grow!withScor!
SpecialOpportunity:
Scor!-Mobile Builder (Business Sponsorships): Enable your business' name to travel to string players all across the country! You'll also be making awesome opportunities for string players around the nation a reality! Be a Scor!-mobile builder.
Unique Messaging: This full-color wrapped (with your company name!) trailer will haul to 12+ camps per year, ply the nation's highways for 4-5 months each year, and help to welcome enthusiastic string players to a great experience as soon as they arrive in the parking lot! We plan to occaisionally feature it at certain industry conferences (such as ASTA National) as well. We currently have a trailer (pictured at right below), but it is not yet wrapped or finished inside.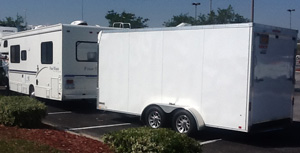 BeSeen!
We're happy to recognize your company's Scor!-Mobile sponsorship in various ways:
On the Rig:

Company name & logo on the Scor!-mobile itself for at least 3 years. Name-only listing for sponsorships below $900. Large-format logo & name limited to one Scor!-Mobile Major Sponsor.

On a Large Banner:

Company name & logo on a Scor!-mobile funding campaign banner displayed at each camp for 2 seasons (or for the duration of the campaign, whichever lasts longer). This tall sign will be displayed inside where all Scor! "campers" will see it numerous times per day.

At StringCamp.com:

Company name & logo (with weblink) at the Scor! website. (name only for sponsorships below $450)

In Print:

Company name on at least one printed newsletter.

In Person:

Personal, live recognition of your support at EACH of our camps (currently 12) in the season of your sponsorship. (for $900+ sponsorship levels) Major Sponsors add personal recognition for 3 years, and in each additional year of operational support provided.
SponsorLevels

$225: build a square foot of the Scor!-Mobile.
$450: build 2 square feet of the Scor!-Mobile.
$900: build 5 square feet of the Scor!-Mobile.
$2250: build 10 square feet of the Scor!-Mobile.
Major Sponsor: $5000 up front plus $1500 for 2 years of operational sponsorship.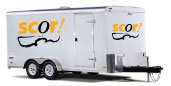 Scor!-MobileIs...
Once-upon-a-time, Scor! was one camp in Rochester, and all the supplies fit in one tote-bin. No longer! Bringing Scor! to numerous cities requires hauling a substantial amount of music, supplies, signs, merchandise, instruments, literature, and equipment. Scor! needs a much bigger "tote bin"--a Scor!-mobile!

Remember "Book-mobiles?" When you couldn't get to the library, the library came to you. Well, not everyone can come to Rochester Scor!, so we're creating a "Scor!-mobile" which brings Scor! to you & your string-playing fans across the country! The starter Scor!-mobile is a basic cargo trailer which will be upgrade with needed features-- Scor!'s mobile storage & 'work-room' facility. Become a Scor!-mobile Builder today!
No PayPal account is required. Or, text a donation via PayPal:
To: 729725 (PAYPAL)
example: "Send 25.00 to scor@stringcamp.com"

Or... pay securely directly from your bank account via the Intuit Payment Network button below.
We appreciate your collaboration & support!